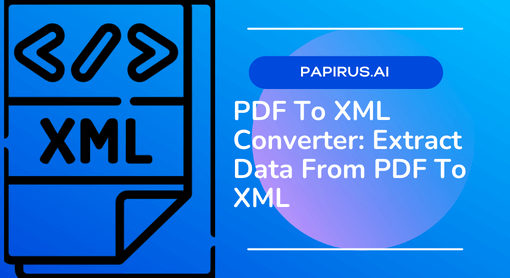 PDF To XML
We all know the importance of data. With increasing complexity in the market, information is the key to making a successful business. Data can be in many forms. Today we chat about one form of data that has been used for years, PDF files. What are the different ways to extract data from pdf to XML format? Have you tried Papirus AI PDF To XML Converter? This article dives deeper into this question while also exploring how it works.
What is the PDF To XML Converter?
The PDF To XML Converter is a method that converts PDF files into XML files. The converter supports various input and output formats, including PDF, XML, HTML, and text. It can be used for use in web applications, document management systems. Or other applications that require data from PDF files to be in XML format.
Converting PDF Files to XML
That can be done with a few simple steps. First, open the PDF file in Acrobat Reader. Next, go to File > Save As and choose the XML file format. Finally, click Save and the conversion will begin.
The main advantage of converting PDF files to XML is that it allows users to extract data from PDF documents. They use these in other applications. For example, data from a PDF invoice can be extracted. It is used to populate an Excel spreadsheet. This is particularly useful for businesses that need to automate their data entry processes.
Another advantage of using an XML converter is that it preserves the formatting of the original PDF document. This is important if you need to maintain the original layout of the document.
There are a few things to keep in mind when converting PDF files. First, make sure that your PDF file is not password-protected or encrypted. As this will prevent the conversion process from taking place. Second, remember that some characters may not convert correctly. For example, accented characters may be converted into question marks or other symbols. If you need to preserve these characters, you can try using a different character encoding (such as UTF-8) during the conversion process.
Extracting Text from a PDF File
There are a few different ways to extract text from PDF files. One way is to use a Papirus. Papirus will take your PDF file and convert it into an XML file. From there, you can then open the XML file in a text editor. Then you can extract the text that you need.
Another way to extract text from PDF files is to use a PDF reader. Most PDF readers will allow you to select and copy text from PDF files. Once you have the text copied, you can then paste it into a text editor or word processor. Then save it as a new document.
Yet another approach is OCR(Optical Character Recognition). This method usually isn't as accurate as the others, but it's worth mentioning. OCR software "captures" an image of the text and converts it into editable text.
Conclusion
To conclude, a PDF to XML converter can be an extremely useful tool for extracting data from PDF files. Converting it into a format that is more manageable. You can save yourself a lot of time and effort in manually extracting data from PDFs. If you work with PDFs on a regular basis, investing in a quality converter can be well worth your while.
For your all document capture needs contact us. Papirus AI will increase your efficiency.
See Our AI-powered OCR Solutions in Action. Request a Personalized Demo.